Elegance – Opulence – Romance
From the artistic lighting, to the lush Mediterranean garden setting – the Villa elevates your event to the next level.  The Villa is conveniently located within the greater DC area, and provides a choice of beautiful ballrooms and facilities
The Grand Ballroom
The Grand Ballroom is the epitome of simple elegance with crystal chandeliers, tray ceilings and ballroom floor. The unique design of the Grand Ballroom also lends itself exceptionally well to making larger events and weddings seem intimate. You will have wonderful décor possibilities for your wedding, as the ballroom has a neutral color scheme, which is complemented by our thousands of tablescapes, centerpiece options, and our one-of-a-kind uplighting system. The uplights can be done in a wide variety of colors, giving the room a subtle glow.
The Grand Ballroom is most suitable for events and weddings of 125 to 250 guests, though we do have options for seating and dancing arrangements for both smaller and larger weddings. The room has great flexibility in layout, and our experienced coordinators will be happy to consult with you on the best layout for your wedding party, your guest list, and your dreams.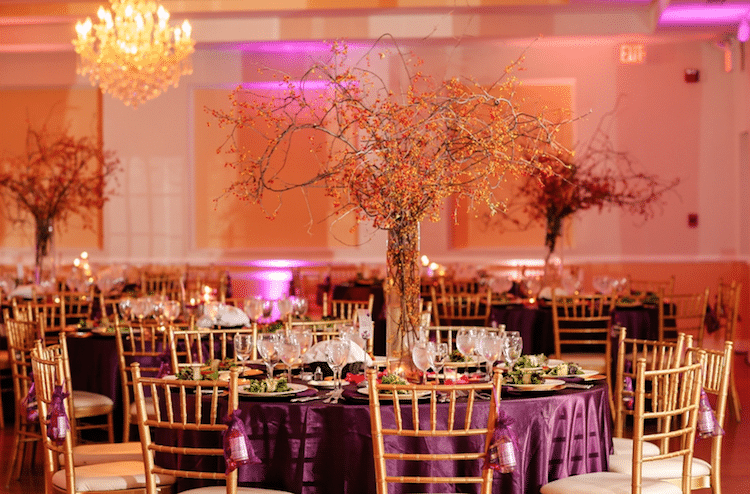 Renaissance Suite
The Renaissance Suite is wonderful for events and weddings of up to 250 guests. It offers two completely different environments–a Mediterranean-style suite of interior spaces which work well for cocktails and hors d'oeuvres, and a beautiful silk climate-controlled tent with tile flooring and dramatic event lighting which is ideal for dining and dancing.
The versatile interior spaces are accompanied by beautiful gardens in and around the Renaissance Suite.